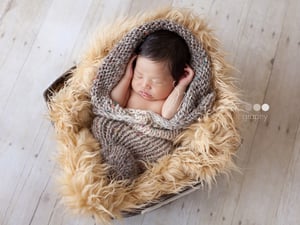 $

85.00
A photographer's staple, the Newborn Peapod is a great little wrap for newborns. It is super soft and cozy and photographs beautifully.
I personally use this wrap in all of the formal family shots I take. I found that a newborn in the buff (or mostly) seemed kind of strange when everyone else was fully clothed, and most of the clothing that parents bring is just too big and bulky to look attractive on a newborn.
The wrap comes in gorgeous colors and is made out of an acrylic/wool blend. This item needs to be handwashed and laid flat to dry. It comes with a beautiful shell heart cuff which can be removed if you wish to use a different embellishment.
Size - Newborn