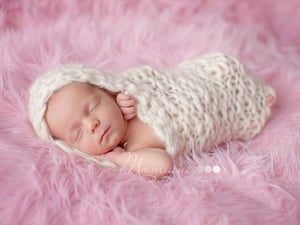 $

75.00
The Newborn Peanut is a photography prop closely based on a design by baby photographer Tracy Raver and her sister Kelley Ryden. It is incredibly easy to use, just drop the baby in and voila, a perfectly swaddled newborn.
It is handcrafted out of beautiful hand painted merino wool to give it a unique blend of colors and wonderfully soft feel. Hand knit and 100% seamless allows for greater flexibility and can be turned inside out for a different look.
Due to the nature of the yarn it needs to be hand washed only and laid flat to dry.